Who needs a passenger vehicle inspection?
Passenger Vehicle inspections are required to be completed either 6 monthly (metro taxis) or annually (ride share/non-metro taxis/special purpose/other).
How often is a passenger vehicle inspection required?
There are various age restrictions in order for a vehicle to pass its inspection.
| | | |
| --- | --- | --- |
| Passenger Transport Type | Inspection period | Vehicle Age Limit |
| Taxi - Metro | 6 Monthly | 8 Years |
| Taxi - Non-metro | Annually | 8 Years |
| Taxi - Accessible | Annually | 8 Years |
| Other Passenger Transport - Metro (rideshare/hire car) | Annually | 8 Years |
| Other Passenger Transport - Non-metro (rideshare/hire car) | Annually | 15 Years |
| Special Purpose (Limousine/Motorbike/Offroad) | Annually | 15 Years |
Booking an inspection
Bookings can be made online via the link below.
www.redbookinspect.com.au/passengertransport
For rideshare partners, bookings can be made online via the link below:
https://www.redbookinspect.com.au/rideshare
Cost
| | |
| --- | --- |
| Inspection Type | Cost |
| Initial/Renewal inspection | $90 |
| Re-inspection | $37 |
| Direction to present clearance fee | $90 |
| Label change | $22 |
What is checked during an inspection
Vehicle identification
Electrical check
Body check
Interior check
Exterior check
Mirrors
Seats
Seat belts
Under bonnet check
Steering
Suspension (front and rear)
Wheels and Tyres (front and rear)
Brakes
Engine and driveline
Exhaust
Fuel tank
Fuel systems
Body and frame
Road test discretionary to findings in previous points of inspection
What is checked during a direction to present
Defects requiring inspections may include:
Air-conditioning
Body/interior
Camera
Cleanliness
Inspection label
Livery/signage
Registrations plates
Roof light
Taxi meter/seal
What is a taxi meter test and security test approval?
This is a requirement where the ALC (Accreditation and licensing centre - DIT) fails a vehicle due to taxi meter or security camera failures.
Certificates provided by installers must be sighted by Authorised Inspectors in order to pass the
vehicle for inspection.
Label Inspections:
| | |
| --- | --- |
| Type | Description |
| Blue label | Metro Chauffeur (MV plates) and rideshare alphanumeric, custom, personalised etc. |
| Red label | Special purpose vehicle - SV plates |
| Green label | Metro general/Access taxi - Non-metro vehicle (NV plates) and country taxi plates |
| Small red age label | Approval by ALC (age extension) |
| Purple label | Exemption from inspection by ALC (brand new passenger of any type |
*Labels may be required to be changed if there is a vehicle category change, a vehicle plate change, or a damaged label
Address
334 Regency road Prospect SA, 5082
What do I need to bring?
You will need to present your current drivers license and registration papers (or SA Ezyreg online).
Taxi drivers will also need to bring both a taxi meter and security camera certificate.
What happens in the case of a failure?
A re-inspection must be completed after the faults have been rectified within 90 days of a failed inspection, otherwise, a subsequent full inspection must be booked and paid for by the customer.
What happens after the inspection?
Upon completion of the inspection, customers are presented with a "pink slip" or operator copy of the certificate of inspection. These certificates are also sent as a digital copy.
Certificate or inspection - Example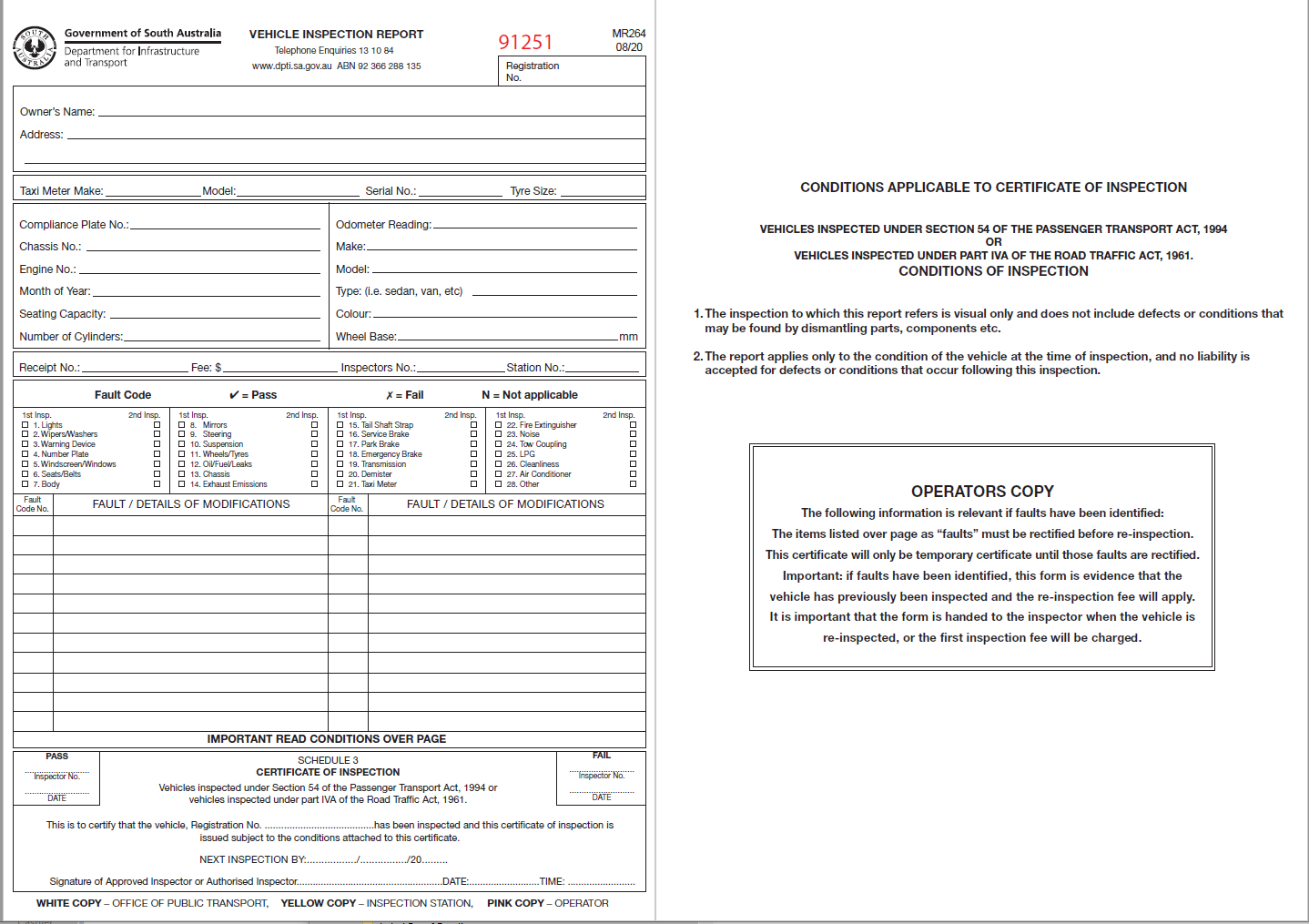 Direction to present inspection - Example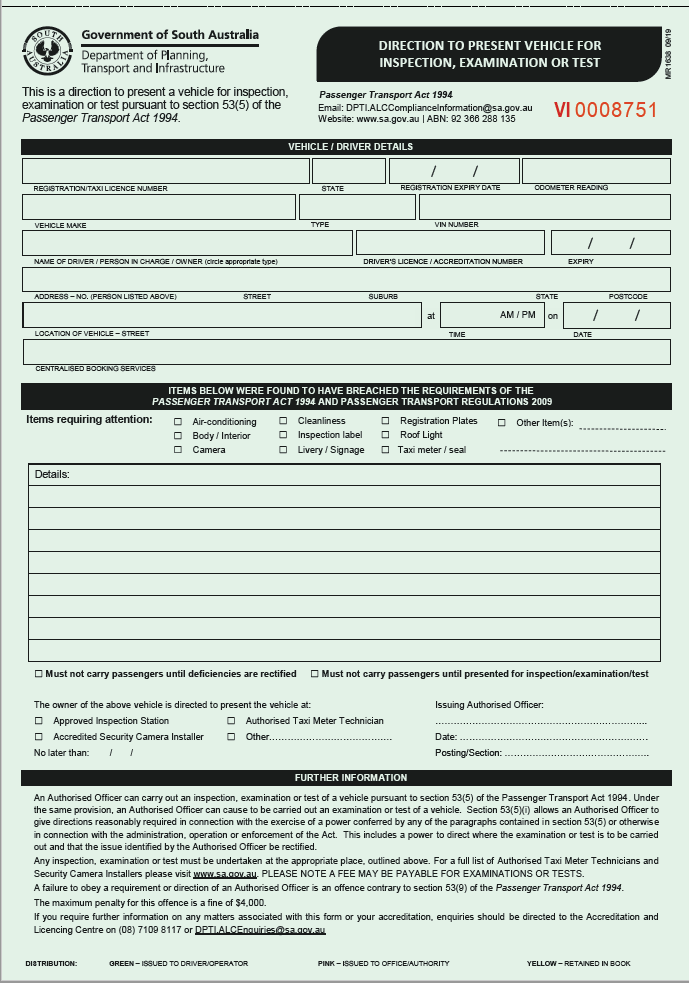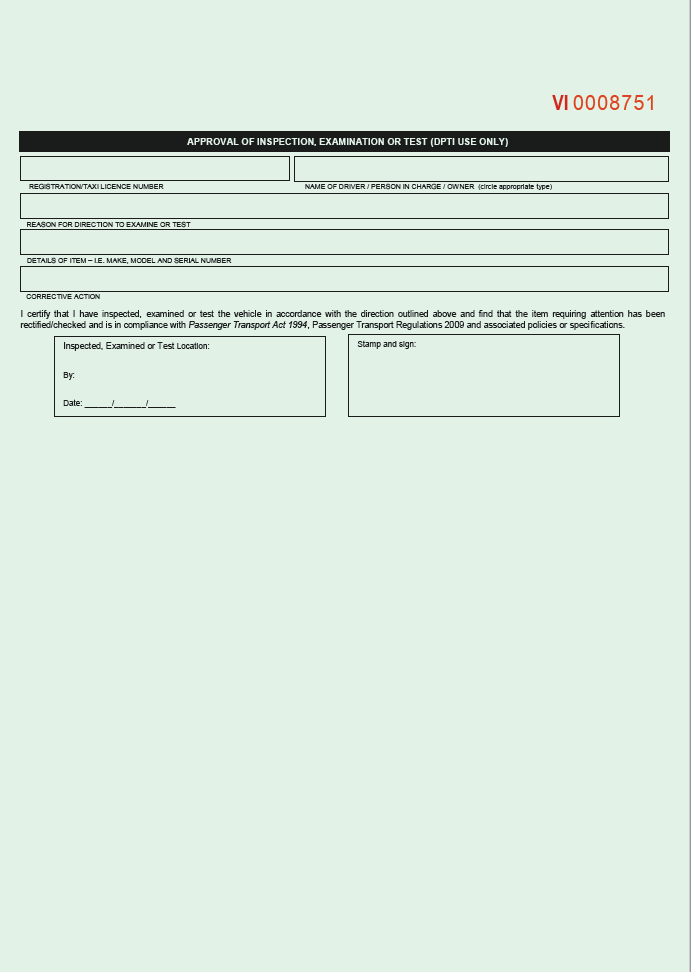 Taxi meter - Example